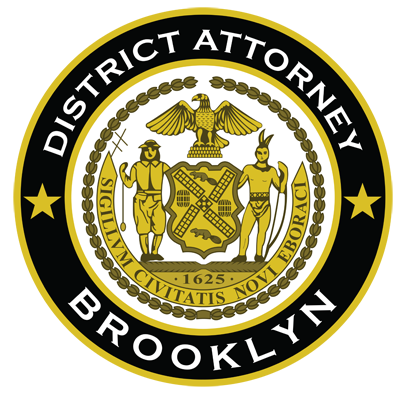 Kenneth P. Thompson
District Attorney
Kings County
September 21, 2016
COMMUNITY PARTNER IN JUSTICE NOTIFICATION
Former NYPD Officer Indicted for Allegedly Killing Pedestrian and
Injuring Three Others While Driving Drunk and Jumping Curb

Brooklyn District Attorney Ken Thompson today announced that a former New York City Police Department officer has been charged in a 26-count indictment with aggravated vehicular homicide, manslaughter, vehicular assault and other charges for allegedly driving drunk in Williamsburg, jumping a curb and striking pedestrians on a sidewalk, killing one and seriously injuring three others.
The District Attorney said that, according to the investigation, in the early morning hours of July 16, 2016, the defendant, Nicholas Batka, 28, of Greenpoint, was drinking with friends at The Whiskey, a bar in Williamsburg. At about 3 a.m., while driving his Dodge Durango, the defendant jumped the curb near Bedford Avenue and North 8th Street, striking four pedestrians on the sidewalk and crashing through a fence in front of a nearby building. A cell phone video shows passersby preventing the defendant from leaving the scene after the crash.
Andrew Esquivel, 21, suffered blunt force trauma and died hours after the crash. Three other victims suffered serious injuries and continue to receive extensive medical treatment.
The defendant sustained minor injuries and was taken to a hospital, where he refused to submit to a blood test. But, according to the evidence, blood taken from the defendant about two hours after the crash showed a blood-alcohol level of .23, almost three times the legal limit of .08.
The defendant, who was assigned to the Manhattan Transit Task Force, was fired by the Police Department a few days after the incident. He faces up to 25 years in prison if convicted of the top count with which he is charged.
District Attorney Thompson said, "It's outrageous that this defendant – a New York City police officer at the time – chose to get behind the wheel while drunk and caused a deadly and horrific car crash. His poor decision took the life of a promising young man and left three others with injuries they'll suffer from for life. We will now hold this defendant accountable for the immeasurable damages that he caused on the streets of Brooklyn that night."
#
An indictment is an accusatory instrument and not proof of a defendant's guilt.
Read the full press release here.