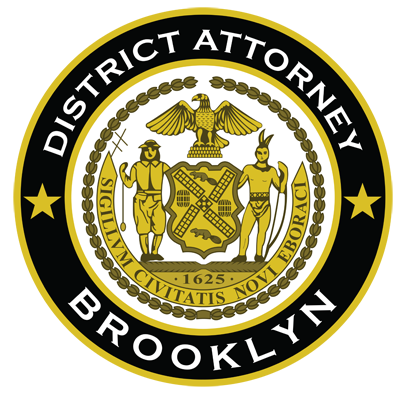 Eric Gonzalez
Acting District Attorney
Kings County
March 29, 2017
COMMUNITY PARTNER IN JUSTICE NOTIFICATION
Thirty-Four Defendants Charged with Operating Sprawling Narcotics
Distribution Ring that Sold Furanyl Fentanyl, Heroin and Cocaine
Acting Brooklyn District Attorney Eric Gonzalez today announced that 34 people have been variously charged in a 357-count indictment with criminal sale of a controlled substance, conspiracy and other crimes for their alleged roles in a narcotics trafficking operation that sold heroin and cocaine, both in Brooklyn and beyond. The case also involves alleged sales of furanyl fentanyl, a relatively new and potent opiate analog.
The Acting District Attorney said that, according to the indictment, between June 2016 and March 2017, the defendants participated in a narcotics distribution operation that spanned all of New York City, some upstate New York counties, and Phoenix, Arizona.
The primary supplier of the ring was allegedly Nigel Maloney, who was based in Phoenix and would mail heroin and cocaine to Warren Appolon, who operated out of his home in Jamaica, Queens. Appolon is accused of supplying the narcotics to Willie Billingslea, who worked on behalf of the head of the Brooklyn-based distribution operation, Jerome Horton.
Furanyl fentanyl is a highly potent opiate that can be stronger than similar drugs and is often cheaper than heroin. Based on its slightly different chemical composition, it is not currently a controlled substance under New York State law, although the federal government listed it as a Schedule I controlled substance in November 2016.
It is alleged that Horton, Billingslea and their co-conspirators stored narcotics and sales proceeds under floor boards, in storage rooms and other locations. They also used vehicles equipped with elaborate hiding spaces (or "traps") to store and transport the drugs. Customers contacted members of the operation by making phone calls or sending text messages to arrange transactions. The sales were typically completed during hand-to-hand transactions in vehicles, in buildings or on the street, throughout New York City, according to the indictment.
During the course of the investigation, a total of 2.455 kilograms of cocaine, 1.704 kilograms of heroin and 4.581 kilograms of furanyl fentanyl were recovered. In addition, 17 operable firearms were seized in the course of the investigation.
Acting District Attorney Gonzalez said, "The indictment describes a sprawling narcotics ring that operated from Brooklyn across the city, the state and the country. Those who push these deadly poisons on our streets, concerned only with their own lucrative profits, devastate the communities where they operate and feed the disease of addiction, which ultimately touches all of us. Drug analogs, like the furanyl fentanyl in this case, highlight a dangerous gap in our narcotics laws that we will work to address with our partners in Albany."
#
An indictment is an accusatory instrument and not proof of a defendant's guilt.
Read the full press release here.