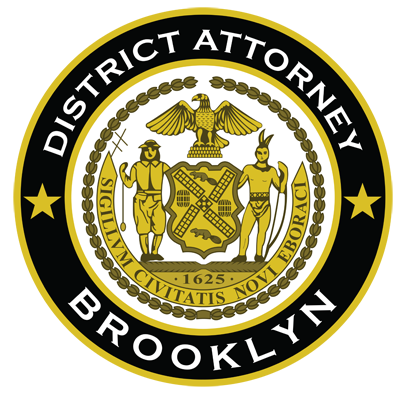 Eric Gonzalez
Acting District Attorney
Kings County
June 8, 2017
COMMUNITY PARTNER IN JUSTICE NOTIFICATION
Twelve Alleged Gang Members Variously Charged
With Conspiracy and Attempted Murder in Bushwick Turf War

Acting Brooklyn District Attorney Eric Gonzalez today announced that 12 alleged members of the Bushwick- based street gang True Bosses Only have been variously charged with conspiracy to commit murder, attempted murder, weapons possession and other charges in connection with 10 separate shootings that left seven people injured.
The Acting District Attorney said that, according to the indictment, the defendants, who now range in age from 17 to 26, are alleged to be members of True Bosses Only ("TBO"). TBO is alleged to be a violent street gang operating within the confines of the 83rd Precinct, bordering the 73rd and 81st Precincts. TBO's purported territory extends north and south approximately between Broadway and Wyckoff Avenue, and east and west approximately between Cooper Street and Madison Street.
Between July 2015 and the present, the indictment alleges, members of TBO have been feuding with three other violent street gangs: Elm Street Piru, which operates within the 83rd Precinct just west of TBO territory, approximately between Palmetto Street and DeKalb Avenue; Loot Gang, which operates out of the New York City Housing Authority Ocean Hill Houses, to the south of TBO territory within the confines of the 73rd Precinct; and 900 Gang, which operates largely out of the NYCHA Sumner Houses within the confines of the 79th Precinct.
Furthermore, according to the indictment, in addition to the struggle for geographical control, much of TBO's violent activity was driven by the desire to retaliate for prior shootings targeting TBO members, particularly the September 27, 2013 shooting death of TBO member Bashiek Reddick, a.k.a., Bless.
Acting District Attorney Gonzalez said, "This indictment describes a terrifying mix of deadly force and mindless obsessions with turf, leading to serious consequences for innocent bystanders. We will never stop fighting against gun violence and this kind of senseless disregard for the safety of our children and neighbors."
The Acting District Attorney further said, "Many of these territorial disputes, in this and other cases, revolve around New York City Housing Authority developments. To that end, I have recently launched a Public Housing Crime Suppression Unit that will work to reduce crime in housing developments using data-driven intelligence focusing on the drivers of crime. The Unit will work closely with resident associations, community members, NYCHA and the NYPD to proactively suppress crime and violence, maintain safety and develop trust."
#
An indictment is only an accusatory instrument and is not proof of a defendant's guilt.
Read the full press release here.