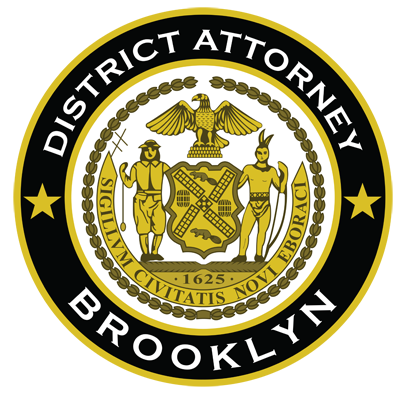 Eric Gonzalez
Acting District Attorney
Kings County
August 3, 2017
COMMUNITY PARTNER IN JUSTICE NOTIFICATION
Acting Brooklyn DA Eric Gonzalez and New York AG Eric Schneiderman Call for
ICE to End Immigration Enforcement Raids in State Courts
Acting Brooklyn District Attorney Eric Gonzalez and New York State Attorney General Eric T. Schneiderman today called for the United States Immigration and Customs Enforcement (ICE) to stop conducting raids in New York courthouses and to recalibrate their priorities so crime victims and witnesses are not targeted for removal proceedings. Instances of arrests and attempted arrests by ICE in courts have spiked approximately five-fold this year compared to 2016 and a growing number of victims have expressed reluctance to move forward with criminal prosecutions due to fear of being deported.
While ICE has designated certain locations such as schools, medical facilities and places of worship as "sensitive locations," where it does not carry out enforcement actions, it has so far refused to designate courthouses as sensitive locations. The result is that a large segment of New Yorkers are now discouraged from appearing in state courts, including in housing disputes, to obtain orders of protection or to settle important matters such as child custody.
Acting District Attorney Gonzalez said, "The federal authorities claim they are making America safe again, but the truth is that their immigration enforcement policies are making all of us less safe. We encounter more and more victims and eyewitnesses to crime who are fearful of moving forward because of immigration status, and we see arrests by ICE spiking in our courthouses, including Family Court and courts dedicated to helping human trafficking victims and those with mental health issues. We must not allow a large number of our residents to live in the shadows and stop cooperating with law enforcement – but the Trump Administration is now creating this dangerous reality. ICE should treat courthouses as sensitive locations, like it does schools and houses of worship, to allow everyone free access to our justice system and stop the chilling effect felt by victims and witnesses."
Acting DA Gonzalez has been a leader in prosecutors' work to protect immigrants, creating a policy this spring to offer non-citizens plea offers that avoid collateral immigration consequences, hiring two immigration attorneys to advise his staff and holding monthly Immigration Forums to educate community members about common scams and how to avoid them. On August 8, 2017 The Brooklyn DA's Office will hold a symposium for legal professionals on the intersection of criminal law and immigration law.
The Acting District Attorney thanks the New York Immigration Coalition, the Immigrant Defense Project, the Legal Aid Society, Safe Horizon and Sanctuary for Families for their work and advocacy on immigration issues.
#
Read the full press release here.