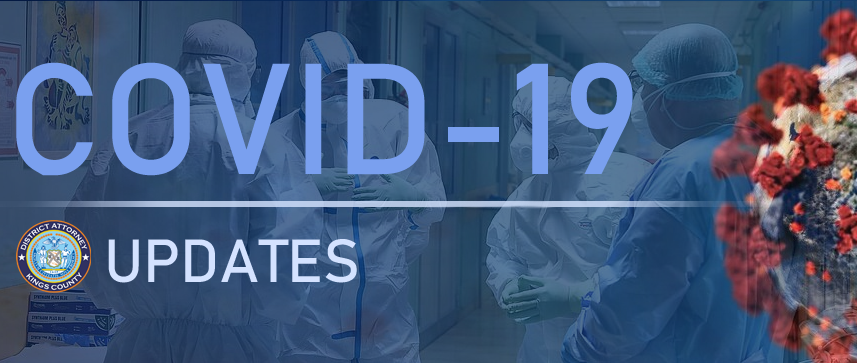 Last Updated: 01/28/2022
DA'S ACTION CENTER
The District Attorney's Action Center is available to assist the people of Brooklyn with criminal justice matters such as domestic violence, child abuse, fraud, human trafficking, gun and illegal drug activity in their community and other crime-related or quality of life issues. Complaints can also be made anonymously. Trained specialists in the DA's Action Center are available to evaluate complaints and determine the next step to resolve the matter.
DA's Action Center Hotline: (718) 250-2340
---
VICTIM SERVICES & DOMESTIC VIOLENCE
If you are suffering from abuse or intimate partner violence while being quarantined, require safety planning, shelter assistance, referrals or other services, help is available.
Victim Services Unit: (718) 250-3820 or VSU2@BrooklynDA.org
Brooklyn Family Justice Center: (718) 250-5113
New York City 24-hour Domestic Violence Hotline: (800) 621-HOPE (4673)
Safe Horizon 24/7 Rape and Sexual Assault Hotline: (212) 227-3000
***For emergencies, call 911.
How to Virtually Apply for a Civil Order of Protection in Family Court
All temporary orders of protections that have been issued by criminal and civil courts in NY have been extended until the next court date.
To file a temporary order of protection (when no arrest has been made):
You will subsequently appear before a judge via Skype or phone
***For inquiries, call 646-386-5299  or email NYFCinquiry@nycourts.gov
---
SPECIAL VICTIMS
We are still here to help sexual assault survivors and are working closely with hospitals to ensure that rape kits can be performed safely during this public health emergency.
If you are the victim of sexual assault and are seeking resources, we will continue to be here for you.
Special Victims Bureau: 718-250-3170
24-Hour NYPD Special Victims Division Hotline: 646-610-7272
Brooklyn Family Justice Center: 718-250-5113
RAINN National Sexual Assault Hotline: 800-656-HOPE (4673)
---
Child Abuse
Our Special Victims Bureau works in close partnership with the Jane Barker Brooklyn Child Advocacy Center.  The Brooklyn CAC remains open and has developed a COVID-19 Response Protocol to ensure that all child victims and their families remain our top priority.
To report suspected cases of child abuse or maltreatment, call the New York State Child Abuse Hotline at 1-800-342-3720.  If you suspect a child is in immediate danger, call 911.
Special Victims Bureau: 718.250.3170
Jane Barker Brooklyn Child Advocacy Center: 718.330.5400
---
HUMAN TRAFFICKING 
The Human Trafficking Unit remains committed to holding accountable those who, through such means as psychological and physical coercion, beatings, extortion, starvation, confinement, and compelled drug use, have forced individuals (often young girls and women) into prostitution and instances of labor trafficking.
COVID-19 Effects on Human Trafficking Responses
Report Incidents of human trafficking: (718) 250-2770
National Human Trafficking Hotline: (888)-373-7888
---
FRAUD
In addition to white-collar crimes, scams targeting immigrants and homeowners, wage theft and healthcare schemes, our Action Center's Hotline is open to report scams related to COVID-19.
DA's Action Center: (718) 250-2340
NYC311: Call 311 or (212) NEW-YORK
New Yorkers Can Now Report Vaccine-Related Fraud by Calling 833-VAX-SCAM (833-829-7226) or Emailing STOPVAXFRAUD@health.ny.gov
NYC Department of Consumer and Worker Protection Coronavirus Overcharge Complaint Form
New York State Attorney General Price Gouging Complaint Form
Here are some tips from the Federal Trade Commission to avoid coronavirus scams:
Hang up on robocalls. Don't press any numbers. Scammers are using illegal robocalls to pitch everything from scam Coronavirus treatments to work-at-home schemes. The recording might say that pressing a number will let you speak to a live operator or remove you from their call list, but it might lead to more robocalls, instead.
Know who you're buying from. Online sellers may claim to have in-demand products, like cleaning, household, and health and medical supplies when, in fact, they don't.
Ignore online offers for vaccinations. There currently are no vaccines, pills, potions, lotions, lozenges or other prescription or over-the-counter products available to treat or cure Coronavirus disease 2019 (COVID-19) — online or in stores.
Do your homework when it comes to donations, whether through charities or crowdfunding sites. Don't let anyone rush you into making a donation. If someone wants donations in cash, by gift card, or by wiring money, don't do it.
Brooklyn DA's Community Notification: Coronavirus Scams to Avoid
---
RE-ENTRY SERVICES
The Re-entry Bureau is available to connect individuals with emergency shelters, substance abuse treatment, health insurance enrollment, clothing assistance and other services. If you have a NYSID or DIN number, please include it in your request.
Re-entry Bureau: 718-250-4374 or Reentry@BrooklynDA.org
---
KCDA COMMUNITY RESOURCE EMPOWERMENT CENTER
Our Community Resource Empowerment Center is still available to assist with health insurance applications, mental health services, housing and referrals to community-based organizations. In addition, our community partner Brooklyn Perinatal Services will continue to process health insurance applications over the phone. To learn more, call 718-250-3995.
---
HATE CRIMES
The Hate Crimes Bureau investigates and prosecutes crimes that are motivated, in whole or in substantial part, by a belief or perception regarding the race, color, national origin, ancestry, gender, religion, religious practice, age, disability or sexual orientation of the victim, regardless of whether the belief or perception is correct.
Report bias-motivated crimes to our Hate Crimes Hotline: (718) 250-4949
NYPD Hate Crime Task Force: (888)-440-HATE
* To report a hate crime in progress or any emergency, call 911.
---
ADDITIONAL SERVICES & RESOURCES
COVID-19 Testing & Vaccine Distribution
Mental Health 
New York City has launched Mental Health for All— a new comprehensive website and public education campaign to connect New Yorkers and their families to mental health resources. Visit https://mentalhealthforall.nyc.gov to learn more.
New York State's Office of Mental Health operates a COVID-19 Emotional Support Line at 1-844-863-9314. The Help Line provides free and confidential support, helping callers experiencing increased anxiety due to the coronavirus emergency.
If you're an older New Yorker feeling lonely or isolated, the Friendly Visiting program can connect you with a friendly volunteer to talk with over the phone. Call 212-Aging-Nyc (212-244-6469) and ask about the Friendly Visiting Program.
---
Housing
The New York State Emergency Rental Assistance Program (ERAP) will provide significant economic relief to help low and moderate-income households at risk of experiencing homelessness or housing instability by providing rental arrears, temporary rental assistance and utility arrears assistance. There are no immigration status requirements to qualify for the program.
The City has many resources to help New Yorkers get, afford, and keep housing. Use this website to find resources that are right for you.
---
Food 
Elite Learners offers a Community Food Pantry every Wednesdays in the Brownsville/Flatbush area. Visit their Facebook page for further details.
The Pakistani American Youth Society provides free food and groceries every Thursday from 4PM -5PM at 1045 Coney Island Avenue. Call to 718-415-9492 TO pre-register or email info@payousa.org.
Pantry take-home packages are distributed every day, Sunday – Thursday at Masbia of Flatbush and Masbia of Boro Park.
Three free meals will be available daily for ALL New Yorkers in more than 400 Meal Hubs across the 5 boroughs. To find a location near you visit http://schools.nyc.gov/freemeals or text
"NYC FOOD" to 877-877.
One week of free groceries are available to all New Yorkers in five boroughs at the Neighborhood Opportunity Network (NeON) Nutrition Kitchens, in partnership with the Food Bank of NYC and the NYC Young Men's Initiative (YMI)
Learn more: https://www1.nyc.gov/site/neon/programs/nutrition-kitchen.page
COPO's Halal Food Pantry is still open with COVID-19 safety measures in place. The food pantry is held every Friday from 1:30-4:30 PM. The senior shopping hours are every Friday from 10:30 AM – 12:30 PM. Please call 929-282-2766 to register. Visit https://copo.org/ to learn more
The Salvation Army in Sunset Park is also offering emergency food pantry services Monday – Friday from 10 AM – 12 PM and hot grab and go meals on Tuesday and Thursday from 12 PM- 1 PM. Bring an ID to participate. To learn more, call (718) 438-1771.
---
Unemployment Assistance
New York State is waiving the 7-day waiting period for Unemployment Insurance benefits for people who are out of work due to Coronavirus (COVID-19) closures or quarantines. Visit the
New York State Department of Labor website for more information.
---
Funeral Rites and Burial Assistance
In order to ensure that those we've lost are treated with the dignity and respect they deserve, the City signed an emergency rule to expand the number of low-income people who can receive burial assistance during the COVID-19 pandemic. The assistance is available to everyone, regardless of immigration status, with proof of low-income status. For more information, visit the Help Now NYC website, call 929-252-7731, or email BurialServices@hra.nyc.gov for application assistance.
---
Resources for Immigrant Communities
Many city services are available to everyone no matter what your immigration status is and regardless of your ability to pay, although other eligibility requirements may apply. Learn more

HERE

.
---
Resources for People with Disabilities
The Mayor's Office for People with Disabilities has gathered information specifically to inform people with disabilities on the resources available to the population during NYC's response to the COVID-19 outbreak. Learn more HERE.
---
Resources for LGBTQ+ Communities 
KCDA Pride Connect is designed to empower and assist LGBTQIA+ survivors of intimate partner violence and sexual assault to navigate through the criminal justice system by providing culturally competent and trauma-informed support. To learn more, contact the Brooklyn DA's Victim Services Unit at 718-250-3820.
On May 12, the NYC Unity Project in the NYC Mayor's Office, in partnership with representatives from 15 city agencies and over 200 LGBTQ+ community partners across NYC, launched the NYC LGBTQ+ COVID-19 Guide. The guide includes LGBTQ+ affirming programs and services—both city and private/non-profit resources— still available during the COVID-19 pandemic include: mental health, physical health and wellness, and sexual health services; peer and community support; food assistance; legal services; housing and shelter; and financial/funding opportunities. Learn more HERE.
---
Resources for Seniors
Older adult centers have started resuming in-person programming (outdoor and/or indoor). All participants are required to wear a face covering and maintain a social distance of at least six feet apart. Please reach out to your local older adult center for more information. Stay up to date with the Department for the Aging

here

.
To stay up-to-date with the Brooklyn DA's Office, follow @brooklynda on Twitter and Facebook.