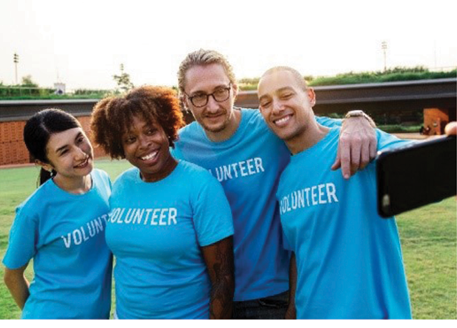 Community Day
The community events will be open to the general public and feature multiple panels with practical information for all members of the community. Faith-based communities, parents, family members, advocates and the public will have the opportunity to hear from trafficking experts on how to identify trafficking vulnerabilities and therefore assist in the prevention of trafficking in their communities.

Monday, January 25th
5:30pm – 6:45pm
Mobilizing the Faith-Based Community to Address Human Trafficking
Learn how faith-based institutions can join the fight against trafficking in a trauma informed, practical, and impactful way to prevent, identify, and assist victims of trafficking. Faith-based communities, parents, family members, advocates and the public will have the opportunity to hear from trafficking experts on how to identify trafficking vulnerabilities and therefore assist in the prevention of trafficking in their communities.

Major A.A Margareta Ivarsson, Women's Ministries Secretary, Salvation Army, New York City, NY

Following studies at The Royal College of Music in Stockholm resulting in a Master of Fine Arts Degree in Music Education & Voice, Margareta worked professionally as performer and music educator in Stockholm for a decade before moving to Suffern, New York to complete additional training resulting in Commissioning and Ordination as a Salvation Army Officer (Clergy) in 2000. Following ministry appointments to Jamestown, NY and a season of Residence Ministry in New York City, she was summoned to the project of interior design and launching of the ministry of the Salvation Army Conference Center @ USA East THQ in 2007, followed by corporate support work at The Salvation Army Territorial Headquarters in West Nyack, NY and Divisional work in Pittsburgh, PA, while completing a Master's Degree in Spiritual Formation and Leadership from Spring Arbor University, MI. Since 2017, Margareta serves in development of the Anti-Human Trafficking work on behalf of the Salvation Army in Greater New York, specifically the PEARL Essence Program with outreach to illicit massage parlors in Brooklyn and Queens. She supports awareness training and AHT programs in NYC and beyond, as far as Ulster County and, as need arises, interacts with The Salvation Army Anti-Human Trafficking World-Wide Network. Margareta is committed to advocate for those who have no voice and empowering others to find their voice, restoring justice and working together with partner agencies with the goal of eradicating the evil of human trafficking.

Pastor Kara Bocchino, LMHC, Axis Church

Rev. Kara Bocchino serves at AXIS Church in Medford as the Compassion Care Pastor.  Kara graduated from Zion Bible College with a degree in Bible and is also a Licensed Mental Health Counsellor who received her Master's degree from NYIT in Mental Health Counselling.  AXIS Church's commitment to building relationships with community leaders is a key to the growth and strength of their ability to reach the lost. Their goal is to establish the Axis Dream Center out of the AXIS Port Jefferson location that plans to include mental health and wellness, after care for students, ESL/GED programs, support for victims of human trafficking, resources for Military with PTSD, provide services for children with special needs, work with the Suffolk County foster care system to institute a strong relationship with the church, and homeless outreach, which would all be free to the community. Kara, representing AXIS Church, is a member of SCATI as well as the Chair of the Suffolk County Sheriff's Interfaith Council.

Tesa Arozqueta, Director of Outreach, ENDGBV, New York City, NY

Tesa Arozqueta is the Director of Outreach at the Mayor's Office to End Domestic and Gender-Based Violence (ENDGBV). Together with a team of Community Coordinators, they work to increase awareness about resources, build stronger support networks, engage with communities, and promote prevention. Tesa's prior work in New York non-profit organizations covers various children's and family programs including residential programs and support programs for families and independent youth. Tesa grew up in Tucson, Arizona (Go Cats!) and moved to NYC in 2003.

Laura Mullen, Survivor

Laura Mullen is a survivor of human trafficking. She is a proud mother and a founding member of the Survivor Advisory Board for Empowerment Collaborative of Long Island (ECLI) where she is a survivor leader in the fight to end human trafficking. Laura participates in developing anti-human trafficking training curriculum, human trafficking program development, and public speaking events to educate and raise awareness about human trafficking.

---

Wednesday, January 27th

"Sands of Silence: Waves of Courage" film viewing
A 15-year quest to expose the underworld of sexual exploitation and trafficking from Asia to the Americas leads world-reporter Chelo Alvarez-Stehle to the windswept beach where her childhood ended and family secrets began. As she documents the transformation of sex-trafficking survivor Virginia Isaias—a Mexican American woman whose past is engulfed in a cycle of sexual exploitation—into an inspiring advocate committed to break that pattern, Chelo undertakes a parallel journey of healing and introspection and sets out to shatter the silence about sexual abuse in her own life.

This event is supported by Brooklyn Human Trafficking Task Force, Suffolk County Anti-Trafficking Initiative, Western District of New York Human Trafficking Task Force, NYS Office of Victim Services, and Zonta Club of Suffolk County, NY. The event is free and viewing of the 52 minute film will be available 48 hours before the Q&A for viewing at your convenience. The viewing link the filmmaker is sharing with you is exclusively for registered participants, please do not share it with anyone else. If you know of others who are interested in viewing the film, please ask them to register here.
12:00pm – 1:30pm 
Q&A with Filmmaker and Human Trafficking Experts
Join this event for a Q&A with the "Sands of Silence" documentary director Chelo Alvarez-Stehle and sex-trafficking survivor and film protagonist Virginia Isaias. A discussion of New York's regional and statewide response to human trafficking, its support for victims, and resources available for the community with Elizabeth Cronin, New York State Office of Victims Service director will follow.

Elizabeth Cronin, New York State Office of Victim Services

Elizabeth Cronin is Director of the New York State Office of Victim Services. She was appointed in 2013 by Governor Andrew M. Cuomo. In addition, Ms. Cronin was a special victims' prosecutor and is a published author and frequent public speaker on legal and administrative topics, including prosecuting domestic violence cases, immigration law, and evidence, among others.

Chelo Alvarex-Stehle, Director, Producer, Advocate, Sands of Silence

World reporter and filmmaker Chelo [/cello/] Alvarez-Stehle [/STAY-lee/] producer/director/writer of the feature-length documentary SANDS OF SILENCE: Waves of Courage, has spent over two decades denouncing sexual violence and trafficking through her creative and humanitarian work. She became foreign correspondent for Spain's El Mundo daily in Tokyo and then in Los Angeles. Chelo was interviewer and assistant director on TIN GIRLS documentary on child trafficking from Nepal to India, where she co-founded the Masala Project, an income-generating spice factory and animal farm for survivors. She has directed/produced several short documentaries, among them, SOLD IN AMERICA: A Modern-Day Tale of Sex Slavery, and developed SOS_SLAVES: Changing the Trafficking Game, a social impact video game. She is currently developing a documentary project on sexual aggressors serving time.

Virginia Isaias, Founder and President, Human Trafficking Survivors Foundation

Virginia Isaias is the award-winning Sands of Silence: Waves of Courage documentary film protagonist and a survivor of sex-trafficking. In 2010 she founded  "Survivors of Human Trafficking Foundation" (Fundación de Sobrevivientes de Tráfico Humano, 501 (c)3), which she presides. Her foundation vision is: A world without violence, slavery, exploitation, and survivors of human trafficking living dignified, happy self-fulfilling lives. Her work has been recognized by the US House of Representatives and California Senator Lou Correa. She was named Hispanic Woman of the Year in 2011 by LULAC. In connection with the documentary film Sands of Silence, Isaias has been invited as a panelist at several universities, among them Oxford and Yale, and at an event at the High-Level Political Forum at the United Nations in New York.

Moly England, Suffolk County Anti-Trafficking Task Force Coordinator

Molly England earned her Master of Social Work from The University of Edinburgh, Scotland, and holds her Bachelor of Arts in psychology from The University of California, Santa Barbara. She is certified in Trauma-Informed Care through the University of Buffalo School of Social work. Molly is passionate about educating and enhancing communities and organizations to better support marginalized populations and to empower individuals to build on resilience and thrive. Molly's current position as the Suffolk County Anti-Trafficking Initiative (SCATI) Task Force Coordinator offers a dynamic and exciting opportunity to further her commitment to holistic individual and community-wide development.

5:30pm – 7:00pm
What is YOUR Role in the Anti-Trafficking Movement?
Learn How to Prevent, Identify, and Protect Victims of Trafficking.  Panelists from different sectors will share their organization's approach to preventing trafficking from happening, responding during someone's trafficking experience, and providing services for survivors who have exited their trafficking scenario. Family members, advocates, teachers, business owners, and the general public will learn different action steps they can take to prevent, identify, and protect victims of trafficking.

Opening Remarks from DA Eric Gonzalez

David Weiss, Deputy Chief,  Human Trafficking Unit, Kings County District Attorney's Office, Brooklyn, NY

David is the Deputy Chief of the Human Trafficking Unit at the Kings County District Attorney's Office and is also the law enforcement lead for the DOJ funded Enhanced Collaborative Model Brooklyn Human Trafficking Task Force. He has been investigating and prosecuting Human Trafficking cases since 2014. After starting his career in 2006, he previously handled cases involving all types of violent crime. In 2015, David led a multi-agency investigation and prosecution which resulted in the takedown and closure of two hotels and their owners permitting prostitution in hotels in Brooklyn and Queens. In 2017, David was cross-designated as a Special Assistant United States Attorney for the Eastern District of New York to bring federal sex trafficking charges in a case involving the trafficking of several underage girls. David regularly presents on Human Trafficking investigations and prosecutions throughout NY State, around the United States and for international law enforcement officials through the US Department of State International Visitor's Program.

Alexi Ashe Meyers, Director of Anti-Trafficking Policy, Sanctuary for Families, New York City, NY

Alexi Ashe Meyers is the Director of Anti-Trafficking Policy at Sanctuary for Families, New York's leading service provider and advocate for survivors of domestic violence, sex trafficking, and related forms of gender violence. Before joining Sanctuary for Families, Meyers served as assistant district attorney with the Brooklyn District Attorney's Special Victims Bureau and Human Trafficking Bureau. Prior to moving to New York City, she worked in the Family and Crime Prevention and Youth Protection Unit of the Los Angeles City Attorney's Office. She is a graduate of Occidental College and Southwestern University School of Law. Meyers co-chairs the New York State Anti-Trafficking Coalition and was named one of New York's "New Abolitionists" in recognition of her work to combat human trafficking. 

Tonya Turner,  Education and Training Director, UNITAS, New York City, NY

Tonya is Harvard Certified in higher education through the Derek Bok Center for Teaching and Learning. Tonya Turner is the project administrator, lead materials contributor, lead activities creator and overall teacher/trainer of the UNITAS prevention education curriculum. Tonya was formerly the Director of Training and TA at GEMS (Girls Educational and Mentoring Services), the largest organization in New York State specifically designed to serve girls and young women who have experienced commercial sexual exploitation and domestic trafficking. Tonya was responsible for the creation and implementation of various training programs for the New York State Administration for Children's Services, the New York City police task force for human trafficking, and the NYS Department of Education, Clark County Family of services, Michigan human trafficking commission, and various nonprofit agencies across the country.

Sheri Levine-Shea, Senior Counsel & Vice President, Wells Fargo Legal Department

Sheri Levine-Shea has approximately 20 years of anti-financial crimes legal, risk management, and compliance experience in the financial services industry. Sheri's current role is senior counsel in the Anti-Money Laundering, Sanctions and Anti-Corruption (ASA) section of Wells Fargo's Legal Department.  Sheri also teaches an online course on International Financial Crimes for Fordham Law School that she designed. Prior to joining Wells Fargo's Legal Department, Sheri managed the Financial Crimes Risk Management High Risk Customer Group for the Wells Fargo International Group (IG), where she was responsible for the High Risk Customer Program.  Sheri also has expertise in anti-human trafficking issues and initiatives aimed at identifying and preventing human trafficking and supporting survivors.  Sheri is also a member of the New Jersey Coalition Against Human Trafficking.

Rhonelle Bruder, Founder and Executive Director of Project iRISE

Rhonelle Bruder is the founder and executive director of Project iRISE, a community-based not-for-profit organization providing innovative skills & leadership development programs & opportunities for survivors of human trafficking and those at risk. Rhonelle's work in the anti-human trafficking sector is informed by lived experience as a survivor of sex trafficking and a formerly homeless teen. Once a high school dropout, today, Rhonelle holds both an Honours Bachelor of Science in Health Services Administration from New York City College of Technology and a Master of Science in Health Informatics from the University of Victoria, British Columbia. In addition to her work leading Project iRISE, Rhonelle is a public speaker, educator and sits on various anti-trafficking advisory committees advocating for systemic change to increase prevention efforts and better support survivors of trafficking.