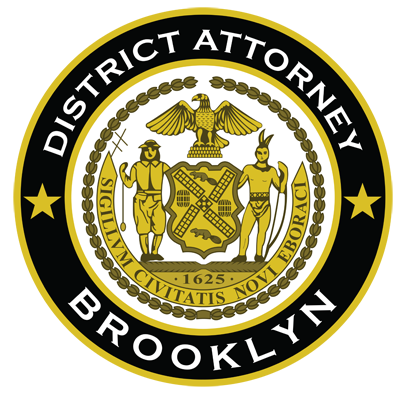 Eric Gonzalez
Acting District Attorney
Kings County
May 5, 2017
COMMUNITY PARTNER IN JUSTICE NOTIFICATION
Flatbush Daycare Operator Convicted for Stealing Over $50,000 from City
By Falsifying Records, Bribing a City Employee

Acting Brooklyn District Attorney Eric Gonzalez today announced that the operator of three Brooklyn daycare centers has been convicted for stealing over $50,000 from the New York City Administration for Children's Services (ACS) by falsifying and submitting forms to receive City funds for a bogus center and for children who did not actually attend his centers.
The Acting District Attorney said that, between 2007 and 2011, the defendant, Owen Larman, 44, of Prospect-Lefferts Gardens, opened three daycare centers in Brooklyn under the name Next to Home. The centers, serving infants, toddlers and school-age children, were primarily paid through ACS vouchers given to families to cover some or all of the cost of childcare services.
In August 2011, the New York City Department of Health and Mental Hygiene (DOHMH) found that one of the defendant's centers, located at 1159 Flatbush Avenue, was grossly overcrowded with inadequate staff to supervise the children. DOHMH issued a new permit allowing only seven children of school age to be on the premises. Prior to this date, the defendant had over 78 children at the site.
Following the issuance of the new permit, the defendant attempted over the next several months to open a new center at another location, 5566 Kings Highway. He was unable, however, to secure a lease for this location and therefore was never able to open a center there.
Despite this, the defendant went on to file 11 false forms with ACS from June 2012 to April 2013 stating that school-age children with ACS vouchers were receiving childcare services at that location. The forms were, in fact, for some children still receiving services at 1159 Flatbush Avenue in violation of DOHMH's new registration and license for the site, as well as for some children who were not receiving services at any of the defendant's centers.
As a result of these falsified forms, Next to Home received approximately $51,667 from ACS, which was deposited in the defendant's account. Further, the defendant was able to accomplish the theft by bribing an ACS employee for almost three years, from May 2011 to January 2014.
Acting District Attorney Gonzalez said, "This defendant stole from the City, falsified documents and bribed a public employee – all inexcusable criminal acts under any circumstances. But in this case, the defendant not only broke the law to line his pockets – he did so while entrusted with the care and well-being of dozens of young children. I will not stand for anyone who compromises the safety of Brooklyn's children in any way."
#
Read the full press release here.