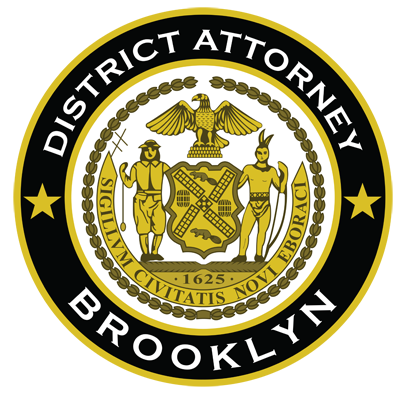 Eric Gonzalez
Acting District Attorney
Kings County
May 17, 2017
COMMUNITY PARTNER IN JUSTICE NOTIFICATION
Woman Sentenced to up to 4½ Years in Prison for Hate Crime Theft of
$140,000 Cash and Gold Jewelry from Bensonhurst Woman
Acting Brooklyn District Attorney Eric Gonzalez today announced that a 44-year-old woman was sentenced to 1½ to 4½ years in prison, following her earlier guilty plea to grand larceny as a hate crime. The defendant admitted to stealing about $140,000 in cash and gold jewelry from the victim, a Chinese woman, during an elaborate scam, convincing her she needed to remove a curse that threatened her family.
The Acting District Attorney said that the defendant, Xuekun Su, 44, of China, acting with other unapprehended individuals, approached the victim, a 61-year-old Chinese immigrant, on April 27, 2016, in the vicinity of Bay 22nd Street and 86th Street in Bensonhurst, Brooklyn. The defendant and the other individuals engaged the victim in conversation and, after gaining her trust, claimed to be clairvoyants. They warned the victim that she or a member of her family would die because of a curse.
They convinced her that she could rid herself of the curse by gathering large sums of cash and jewelry to be blessed. The defendant and the others assured the victim that after the blessing removed the evil spirits surrounding her family, the items would be returned to her. The victim proceeded to gather approximately $140,000 in cash and various pieces of gold jewelry.
The victim then returned to the defendant and the others who, according to the investigation, instructed the victim to place the cash and jewels into a bag for the "blessing." Manipulating the bag, the defendant and others removed the victim's valuables and returned a closed one to the victim. They told the victim that the blessing would only work if she did not open the bag for many days. Later that evening, however, after the defendant and the others had gone, the victim opened the bag and found that her property was gone. She then contacted the police.
The defendant admitted that she had selected the victim based on her age and national origin, making her larceny conviction a hate crime under New York State law.
Acting District Attorney Gonzalez said, "After targeting vulnerable immigrant women, this defendant stole the victim's life savings by exploiting the fears and beliefs of the culture they shared. Her deplorable conduct more than merits the prison sentence imposed today. I will aggressively prosecute those who seek to profit from our immigrant communities, and we will continue my Office's efforts to educate everybody about common illegal schemes like this Chinese blessing scam, as we do in our monthly Immigration Forums."
Read the full press release here.