DOMESTIC VIOLENCE BUREAU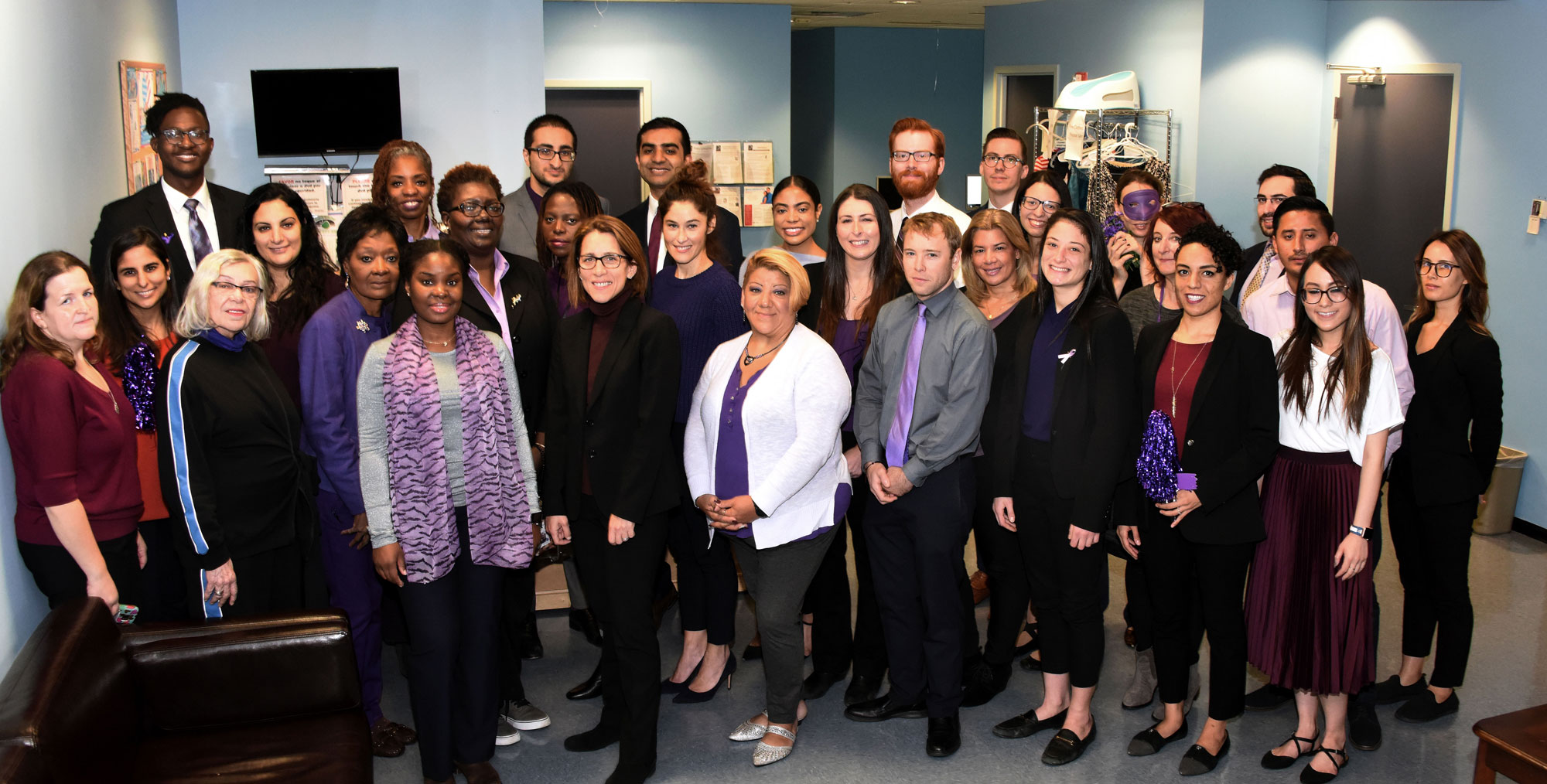 The Domestic Violence Bureau investigates and prosecutes over 10,000 cases of intimate partner violence each year, with criminal charges ranging from misdemeanor assault to homicide. The bureau has been at the forefront of prosecuting crimes such as stalking and strangulation, which frequently arise in a domestic violence context, but which were only recently recognized by the legislature as separately named offenses.
The bureau has over 40 assistant district attorneys who work in conjunction with the Brooklyn Family Justice Center and the office's own Victims Services Unit to provide a wide range of support services to survivors. Among the many resources available are counseling, civil legal assistance for immigration and family court matters, housing and HRA assistance, and economic empowerment programs. The bureau prides itself on looking out for some of Brooklyn's most vulnerable victims, many of whom may not realize that a helping hand is there for them. For example, the bureau's Barrier Free Justice Program has counselors with specialized skills, such as proficiency in sign language, which empowers the hearing-impaired to seek justice when they are crime victims.
A federal grant has also enabled the bureau to purchase cutting-edge equipment to assist in the prosecution of strangulation cases. The bureau now has an alternate light source camera, proper lighting, and accompanying equipment, all of which help trained photographers to find strangulation marks on a victim's neck — marks not otherwise visible to the naked eye. This technology has already proved invaluable in pursuing strangulation cases that once might have never made it to court because of a lack of evidence.
In 2014, the Office on Violence Against Women of the United States Department of Justice awarded the Brooklyn District Attorney's Office (one of only four recipients nation-wide) a grant for Phase 2 of the Domestic Violence Homicide Prevention Demonstration Initiative (DVHP). The DVHP will target domestic violence cases in East New York, seeking to identify victims who are at highest risk for being in a potentially fatal abusive relationship.
The Brooklyn District Attorney's Office works closely with the Brooklyn Family Justice Center, which is a "one-stop shopping" walk-in center providing a range of help and services for victims of domestic violence, elder abuse and sex trafficking. Learn more about the Brooklyn Family Justice Center.
ELDER ABUSE UNIT
The Elder Abuse Unit handles all cases of parental abuse (including parents, grandparents, great-grandparents) and spousal/intimate partner violence involving victims aged 60 years or older. This includes cases of physical abuse, as well as those involving threats of violence. The Unit also prosecutes cases involving physical abuse by caregivers, whether that's by paid home attendants or by family caretakers.
The KCDA Elder Abuse Unit has a close working relationship with the NYC Department for the Aging (DFTA), the Jewish Association Serving the Aging (JASA), and Adult Protective Services (APS). These partnerships promote early intervention in many situations. As a result, Brooklyn's vulnerable senior residents, who otherwise may go unnoticed, receive the social services and protection they need.
The unit is involved in community-based projects, such as attending the Brooklyn Multi-Disciplinary Team hosted by the NYC Elder Abuse Center at which professionals who work with seniors throughout Brooklyn are invited to meet to discuss difficult elder abuse issues, as well as to hear guest speakers on relevant issues like housing, hoarding, mental illness, substance abuse, etc.
The Elder Abuse Unit also provides ongoing trainings to NYPD, local social service providers, hospitals, and senior centers to educate the community on the detection and prevention of elder abuse.
Recent Press Releases