VIOLENT CRIMINAL ENTERPRISES BUREAU
The Violent Criminal Enterprises Bureau seeks to stem gun violence and other criminal activity perpetrated by gangs and narcotics organizations operating in Brooklyn. The bureau uses multiple investigative strategies, including sophisticated analyses of social media, electronic communications, and other data, to build successful conspiracy and enterprise corruption cases against offenders and thereby incapacitate and dismantle these violent enterprises.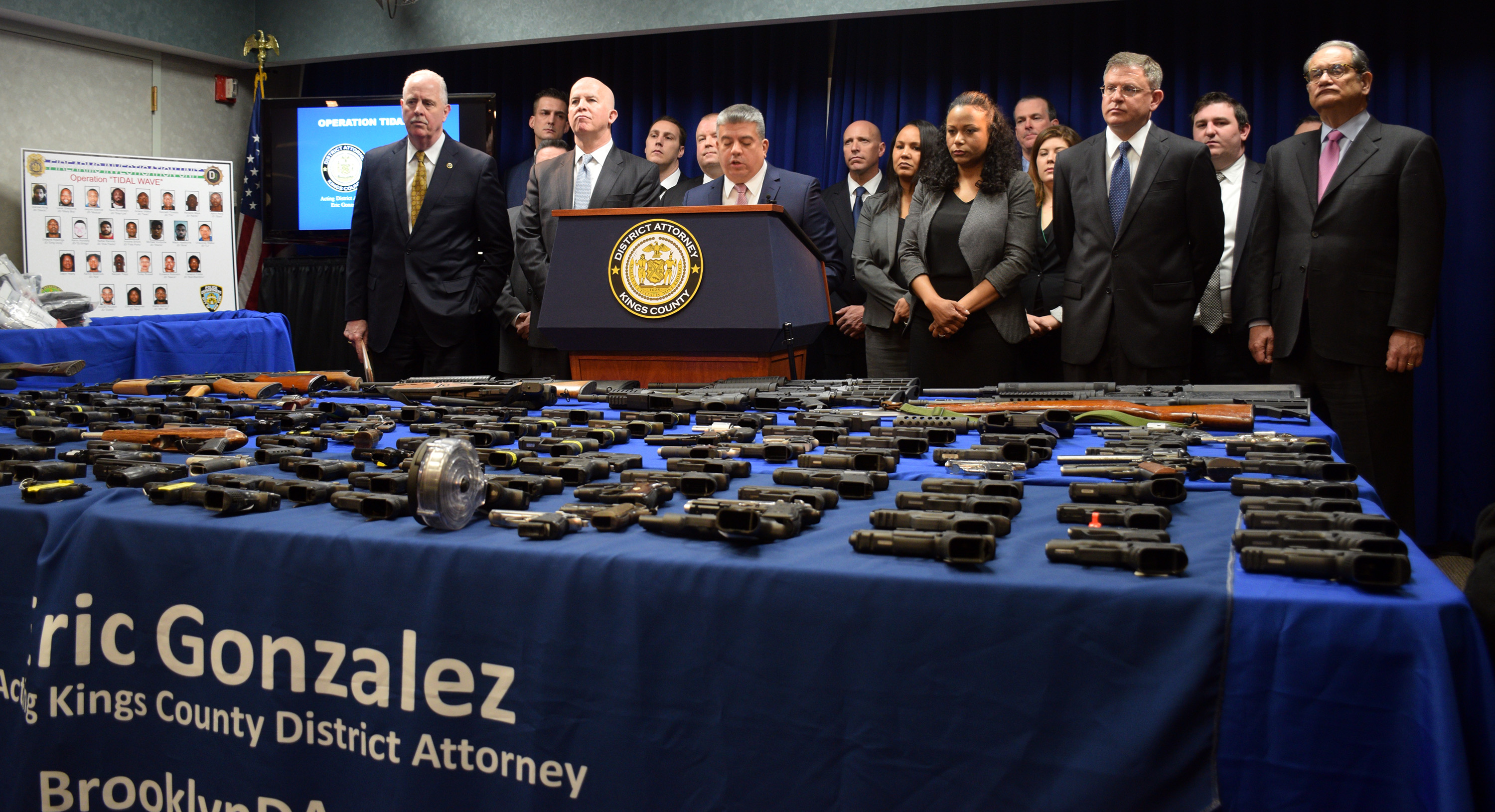 Acting DA Gonzalez announces indictments in an alleged gun trafficking ring
One focus of the bureau is the investigation and prosecution of known street-gang members who have committed serious offenses, including the possession and sale of firearms and other violent crimes. In addition, the bureau conducts gang awareness training, working with community groups and educational agencies throughout Brooklyn.
The bureau also investigates and prosecutes individuals and organizations involved in the trafficking of large quantities of drugs in Brooklyn. The bureau develops long term investigations into suspected criminal narcotics enterprises and into organized drug activity in specific communities. Brooklyn assistant district attorneys work closely with the New York City Police Department, federal agencies, detective investigators assigned to the office, as well as with community groups and religious and business leaders, to combat drug distribution and related violence in Brooklyn.
Bringing Gun Runners to Justice
"I'm selling them the right way and the wrong way," an accused out-of-state gun trafficker was allegedly caught saying in a recorded wiretap while walking the streets of Manhattan with a bagful of smuggled firearms. "When I'm out of state, like in Atlanta and Georgia and all that, it's all legal, but New York it's completely illegal."
His words – which serve as one piece of evidence supporting a 541-count gun trafficking indictment against eight defendants that was unsealed in October 2015 – reveal how firearms traffickers are exploiting lax gun laws in states down South to flood Brooklyn with illegal guns. In fact, criminals are well aware that New York's tough gun laws can be easily circumvented by bringing in firearms from other states, mostly up route I-95, known as the "Iron Pipeline."
A year-long investigation by the Brooklyn District Attorney's Office and the NYPD shut down this alleged trafficking ring, which sold 112 firearms, including 20 assault weapons, to an undercover officer. It revealed that the ringleader, Michael Bassier, allegedly took cheap Chinatown buses to the Atlanta, Georgia area, where alleged accomplices acted as straw purchasers to obtain guns that he then brought back to the city. He's also accused of making car trips to Pittsburgh, Pennsylvania, where he also obtained guns from stores, pawn shops and websites. Three of the defendants who were charged with conspiracy and other counts were arrested in Georgia and two others in Pennsylvania.
"These defendants conspired to use the lax gun laws down south and elsewhere to flood the streets of our city with assault weapons and other guns, which, in the wrong hands, could have caused mayhem and massive bloodshed in our communities," said the late District Attorney Ken Thompson. "We will now hold these merchants of death accountable no matter where they live."
Bassier allegedly paid between $150 and $300 per gun, and paid the straw purchasers a fee of $50 per gun. The undercover cop – conducting almost all the buys in a parking lot of a Walgreens pharmacy in Canarsie – paid on average $800 to $1,200 per gun, and between $2,000 and $2,500 per assault weapon. These figures demonstrate how lucrative the illegal gun trade is.
The long-term undercover operation is the third such successful investigation since 2014. Over 300 firearms were recovered in the previous two, which involved guns transported from Georgia by car and on passenger airplanes. The Brooklyn DA's Office is the only local authority in recent memory to apprehend out-of state defendants who smuggle illegal guns into our city.
Furthermore, the DA's Violent Criminal Enterprises Bureau, working with detectives from the NYPD's Firearms Investigations Unit, have taken almost 1,000 guns off the streets of Brooklyn.
As this case shows, the DA's Office goes far beyond Brooklyn's borders to keep our communities safe from gun violence.
Recent Press Releases: